WELCOME TO SHANTI INORGOCHEM PVT.LTD.
SODIUM BISULPHITE COMPANY
SHANTI INORGOCHEM also well known with the name Shanti Industries is based in Ahmedabad, India. The company was founded in the year 1998 by Mr. Manoj J. Patel. The first product manufactured by Shanti Industries was Sodium Bisulphite, in forms of powder. Shanti Inorgochem was the pioneer company to produce liquid forms of Sodium Bisulphite in India. Currently, we are the largest producers of SBS solution with a high range of production capacity of 24000 TPA.
OUR CERTIFICATES
OUR EXTENSIVE RANGE OF PRODUCTS
AMMONIUM BISULPHITE SOLUTION
It is a clear, yellow coloured solution free from foreign particles being used in the oil-field and manufacturing of caramel food colours. We are the foremost producers of this solution with a wide range of 40%, 60%, 65% and 70% purities.
SODIUM SULPHITE POWDER
It is a white clear crystalline powder with purity of min. 96% and is being used in pharmaceuticals as well as in Oil-field industries.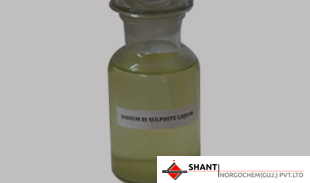 SODIUM BISULPHITE SOLUTION
It is a clear, yellow colored solution free from any foreign particles being used in Oil-Field as an oxygen scavenger and as a de-chlorinating agent in water treatment. We provide this solution which is utilized in commercial wines to avoid the oxidation, preserve the flavour in fruit canning and avoid browning for killing microbes.
SODIUM METABISULPHITE
It is a free flowing crystalline powder used in water treatment, food industry, photographic industry, the mining industry and in the medical fields. We are top manufacturers of sodium metabisulphite in India.
SODIUM BISULPHITE POWDER
It is a white crystalline powder being used in various industries like chemicals, pharmaceuticals, water-treatment etc. We offer the finest quality and an extensive range of sodium bisulphite powder at the best price.
OUR DIRECTORS
Avanish M. Patel
Director
Studied Chemical Engineering
Looking after sales of the company
Manoj J. Patel
Director
Have extensive experience of 30+ years in chemical manufacturing.
His vision led the company to turn as a leader in Bisulphite industry in India.
ASSOCIATED COMPANY
Associated with Bodal Chemicals Limited
Bodal Chemicals was established and launched in the year 1989. Bodal is India's most integrated dye stuff company with an annual revenue of INR 1200 crores. The company is also producing basic chemicals such as sulphuric acid, LABSA and more.